Carb Chronicles Page #4
Here is what we had to start with, looks like bloody hell doesn't it?
Where we were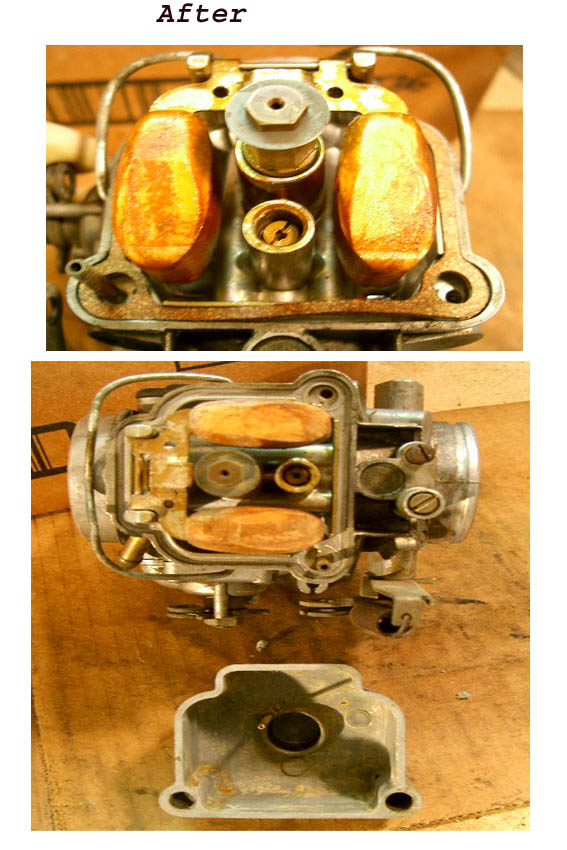 and now to bed. More on Sunday, because I could not be less concerned over whether the Colts win or lose, I would rather be in the garage completely screwing up my bike.
Excellent flick so far. Can't wait for part 2.

I wonder how that B 12 stuff would work on my teeth?
MAIN JET
It would work better than that flipping Gumout. Bongwater would do a better job than that damn rosewater.

Tomorrow we finish and try to start the long dormant beast.
DAY 2
WAKE UP!
The carbs are waiting! I can't wait for the choke & throttle cable hook up.
dragoon
You are a mean bastard, Goonie.
bmwrider
HELLOOOOOO! What time do you get up in Indiana?
dragoon
I didn't drag my ass to bed until 3 so I didn't drag my ass out of bed until 10, plus I am sort of a lazy guy on Sunday (and the other six days as well). Gotta meet some family obligations and then back to the Garage. I feel like a little kid on Christmas, I wanna get the damn thing done and put on to see if she will actually start.

The is last thing that stands between me and full membership in the tribe of men. I shall walk among the courageous and wise who head this tribe. I shall join those who have faced this dreaded final test of manhood.

I will become rebuilder of carburetors.

The enemy lies in wait. Just sitting there on my workbench, looking for weakness, waiting for me to slip up. I must gather strength for the next time we meet. I shall be victorious in the battle of the Bing.

The story of man against machine shall become man working with machine.

The saga will continue.

dragoon
In case anyone actually follows me down this road I thought I would put this up. Courtesy of RubberCow who pointed out the Bing Agency to me. I wish I had this yesterday. the dealer was trying to be helpful by giving me an exploded diagram but the BMW version is nothing compared to this.

Here is page one. I saved the .pdf as a .jpeg in order to get it under 160K to post it, but anyone who needs it can also get it from here.

http://bingcarburetor.com/pdf/94x.pdf
You MUST replace the enrichener gaskets, and use a smidge, a mere dab of mild Loc-Tite on the screws for the enrichener cover. Silicone grease is good for any rubber part. Make sure your jets and needles are matched, and that your needles are set to the Airheads site.
ANDREW
Now I can figure out what one of the tribal elders, Andrew, was saying when he used the language of wisdom, Carbspeak.

Below is the ancient stone from which the language is derived. the Bing Rosetta Stone. If one is to win the fight one must command the ancient language as well.

I must visit a sick family member today before resuming the challenge, but I will study the language. I will become master of the carb.


. . . or least now I can tell the mechanic exactly what is that I broke, lost, damaged, etc.

the original pdf is here, again courtesy of Rubbercow and the Bing Agency. May God bless them both.

http://bingcarburetor.com/pdf/64list.pdf
Now, off to see my beloved grandma.