The Yaz Page
I'm Greg Conway and this is The Yaz Page. The Yaz Page is devoted to Baseball related subjects with which I am interested in such as:
I have added A Real Yaz Page here where I have stashed some cool Yaz stuff I've managed to grab and a wantlist of stuff I still need to grab.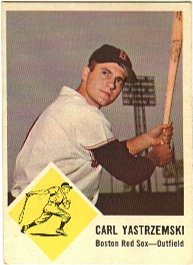 One note: My display is set at 1024 X 768 and some of the pages with card photos may appear a little out of order when viewed at 800 X 600 but not too bad.

Some other items of interest are in progress, very slow progress I might add.
You can check out many good Groo links here.
I have began a Family Pics page here.I will soon start a
Collectable Books ( I collect Hardy Boys books and old baseball related juvenilles)
I have a few comics I collect and a few to trade away or sell.






If you have comments or suggestions, email me at (yazmon@insightbb.com)