Back in 2004 when the new Mustang was unveiled (to be a 2005 model), I knew I had to have one. I also knew that I wanted Mineral Grey thanks to my buddy Craig's 2001 SVT Cobra. I started my hunt for a Mineral Grey 2005 GT in February with a test drive. I fell in love with everything about the car (including the 300 hp) and confirmed with myself that I had to have one. In March I started talking to my dealer about ordering, and they informed me that the wait was 16+ weeks, and I couldn't be guaranteed the options I wanted, or that it would even be a 2005 model year car! I was dead set on having an '05 for collector reasons, so I started searching the web and found the new Saleen. I fell in love with the looks, and knew the performance would be incredible. I was marginally aware of the Saleen history thanks to an educational meeting I had with Stu Akers and Marc Allen at the 1998 World Of Wheel, and thought what a cool collectors car it would be to own. So a trip to the local Indy Saleen dealer, and what do you know - a Mineral Grey S281 was sitting right there in front of me. And it was only a TWO digit number, in a year that turned out nearly 1500 cars (first time Saleen ever produced 4 figure cars). I didn't even need a test drive. It took about 2 weeks of haggling with the dealer (and my wife!!), but as you can see, the deal was made!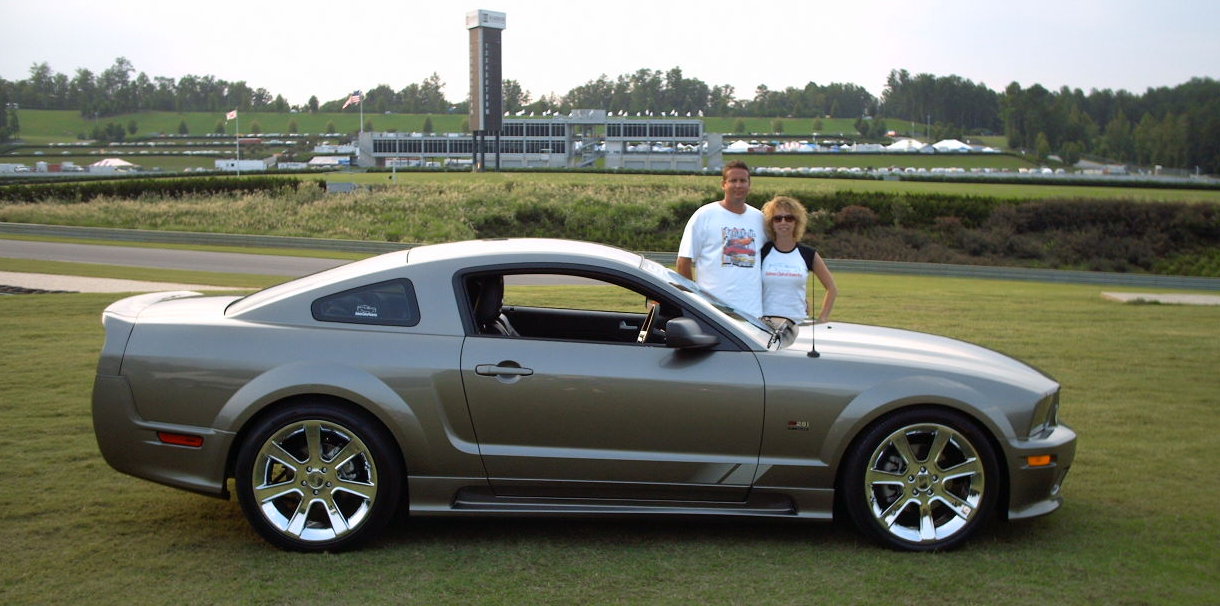 Click here to view my 2005 S281 photo album.
I guess I owe a little past-due thanks to Stu and Marc for their inspirational display back in 1998. My wife can attest - ever since I saw the 1985 and 1986 Saleens at the World Of Wheels I wanted one. In fact, I even got a business card from Marc that day, and told him I wanted the Forrest Green '85 if he ever sold it. Unfortunately, I was still somewhat of a young punk then and he probably didn't take me serious. He since sold it to another collector. But they've gained a new Saleen Enthusiast. Since my purchase I have become very active with the Saleen Club of America where my wife and I have met some very nice folks. I've since taken over the Central Region Director duties, as well as taken a more active role with our local MCA affiliate Southside Mustangs.