My passion for the Mustang started with my first vehicle when I turned 16 - a 1982 Capri RS that my dad helped me buy. If you don't know, this was Mercury's sister car to the Ford Mustang GT. It was Red & Gold with the good ole' 5.0 motor, and a 4spd manual transmission. More than enough power than any 16 year old needed to get in trouble! I was hooked. From that point on I was a Mustang fanatic.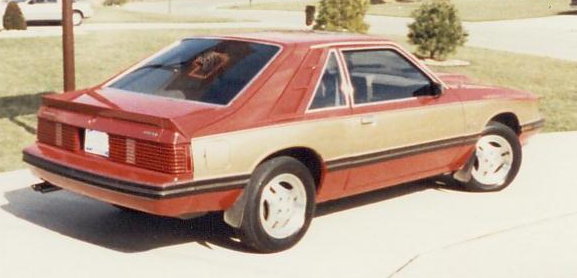 Click here to view my Capri photo album.
My next car was a 1985 Mustang GT, fully loaded, 5 spd with T-tops. It was Medium Canyon Red with the famous recaro style GT interior in tan cloth. This car was freshly repainted, sans the GT hood decal. This is one of my dream cars to add to my stable someday. I currently have my eye on a couple different black versions, so we'll see what pans out. If you know of a low mileage, all ORIGINAL GT in Canyon Red or Black for sale with a 5 spd tranny, I would love to hear about it. Unfortunately I wasn't much of a camera person when I was 18-19 years old, so I only have two pictures of it.
I sold the '85 when I was in college because I THOUGHT I'd be better off in an economy car. After a few years driving a 40 mpg Escort EXP, I decided to by the 82 Capri (back from the buddy I sold it too) when I graduated college. He had it repainted, and swapped out the TRX wheels for the standard sized 10-hole LX rims. I swapped out the interior from a Black '86 GT with the famed charcoal Recaro style seats. And I found some TRX rims, polished them out and put them back on the car - where they belonged! Man what a difference. At this time, I could afford two cars, so I was driving a Grand Am daily, and restoring the Capri for show. I stopped once the interior was complete because I didn't have any more money or time to sink into it. Sure wish I would have kept it now, as you don't see many Capri's roaming around. Man - hindsight sure is 20-20 isn't it?! First the '85, then the Capri - TWICE!
Another two years later (I think it was 1998) I got the itch, and bought a pristine 1993 Electric Red LX 5.0. Now THERE is a car I really wish I still had. It was MINT, all original with only 38k miles. One snowy day I got rear-ended (only minor bumper scratches), and soon after I joined the band and got the first of my two Labs. So I sold it to buy an Explorer. Sad thing is, barely two weeks later I received a company truck! Man was I bummed. Again with the hindsight thing. This is also one of my dream cars to add to my stable. So again - if you know of a '93 LX 5.0 with 5 spd. in Electric Red or Black, low miles and ALL ORIGINAL I would love to hear about it!
Click here to view my '93 LX photo album.
After the '93 LX I spent 7+ years in various company vehicles, swearing to myself that WHEN I buy another Mustang it was going to be brand new, and I would pamper it for life as a collectors item. I had known several people that owned low mileage, mint condition show-car 80's & 90's Mustangs, and I too wanted one.
In 2005 this dream came true when I purchased a brand new Saleen S-281. And since then I have even added a pretty darn nice 1985 GT Convertible to the stable! Click on over to the MY STANGS page to see where my Mustang adventures have taken me today.