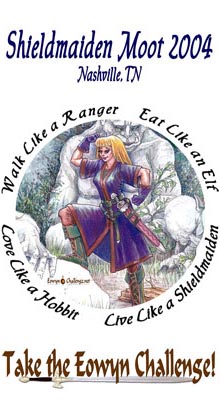 On March 12-14, 28 Shieldmaidens met in Nashville, TN to celebrate the one year anniversary of the Éowyn Challenge.
One year ago, two members of the Weight Watchers message boards found each other by their common favorite quote:
What do you fear, my lady? A cage. To stay behind bars until use and old age accept them, and all chance of valor has gone beyond recall or desire.
They vowed to break the bars of their self-imposed cages, and set up a challenge for other WW members and LOTR fans: to walk the distance from Hobbiton to Rivendell by opening date of ROTK, Dec. 17, exactly nine months later.
The Éowyn Challenge was born.
Enthusiasm for the walk soon spread to other fan groups, and the Walk to Rivendell grew into a multinational challenge with hundreds of members.
On March 12 - 14, 2004, 28 members of the original WW Éowyn Challenge met in Rivendell, or as close as one may get in the modern world. Together, these 28 members alone have recorded over 20 thousand miles and lost over 850 lbs.
The women gathered amid towering vines, tropical trees and flowing falls reminiscent of the Last Homely House, but located in the heartland of America - the palatial Opryland Hotel in Nashville, Tenn.
After an entire year of daily correspondence on the WW Éowyn Challenge and Walk to Rivendell message boards, the 'sisters' of the challenge felt they had grown to know and love each other to the point that a Moot was an absolute must for as many members as could attend.
"We've shared personal trials, tribulations and triumphs," said Kally, the group's web wizard. "And even some fanfic just for fun."
"This group came along at just the right time in my life," said Elhf. "I lost my husband almost two years ago, and since then I have found not only friendship and fitness here, I've found myself on my own Road to Rivendell."
Coming from east and west, and many points in between, as well from Portugal and Germany, the 'Shieldmaidens' found in their long-awaited face-to-face meeting even more of the love, support and strength than had poured through their daily messages on the boards.
"I fell in love with Tolkien only after seeing the first two films," said Estelina of Ramstein, Germany. "I never knew what I was missing!"
"Until I found the Éowyn Challenge, I felt completely isolated in my Tolkien obsession," said Sofia of Lisbon, Portugal. "Not only do we share this love, but we've shared the struggle to become fit and healthy, and become the best of friends in the process. I am so thankful for all of these wonderful women in my life."
In a solemn opening ceremony, each woman, dressed in her Middle-earth finest, lit a candle to represent the beacons of hope and call for aid that blazed from Gondor to Rohan. The smaller beacons were symbolic of the hope and aid shared among the group over the last year. The women stood in a circle arranged by home location from west to east and the little fires traveled around the room as from mountain peak to peak.
Aragornsgal (Queenie) – hailed as the 'true' queen of Gondor and proprietress of the virtual 'Queenie's Tavern' on the WW boards – presided and spoke of the love and support she felt for each of those gathered. Kally was rendered speechless by a gift from the group of an autographed Frodo poster. Riyallyn announced a joyous new pregnancy, and Arwensrose revealed that after years of struggle and over 125 lbs lost, she had broken the psychologically important barrier of weighing in under 199 lbs. The room erupted in spontaneous cheers and applause.
The ceremony closed in singing new, custom verses to the Hobbit Green Dragon round (from ROTK) and Pippin's part of the The Steward of Gondor, as well as Into The West, in which every woman joined. Finally, Aibreán and Novedhelion sang ITW again, completely and beautifully translated into Sindarin.
Official toasts, including of course, "To the Professor!" were held apré-ceremony with vintage Port wine hand-carried by Sofia from Lisbon.
Once the eyes were semi-dry, the party moved to Findley's Irish Pub within the hotel. The live fiddler and guitarist soon had more accompaniment than they could handle as the "denizens of Middle-earth," nearly drowned them out in Irish drinking songs. Finally, Saelind and Pansy Makehay took the stage, repeating their performance of the Hobbits' drinking song for all the patrons. The group left only when last call was finally over.
And finally the moment so many had waited for – a viewing of ROTK together. Over 20 rabid, female LOTR fans aged mid-20s to mid-50s comprised about three quarters of the audience, and never was there a more enthusiastic crowd.
Each had, of course, seen the movie multiple times already, but none of them had experienced it the way they did that afternoon. Every emotional moment was met with raucous cheers and applause, or copious tears and sobs - or both!
When Gandalf declared, "Hope is kindled!" and the beacon fires began to spread, the group joined hands from woman to woman - finally linking in the flesh as their computer screens had shone through the world linking them through cyberspace – a metaphor created on ROTK opening day by Gliowien.
When Éowyn declared, "I am no man!" – the group lost all control and nearly raised the roof.
Several boxes of tissue later, the group donned boots and jeans and headed for Nashville's Wild Horse Saloon. They tore up the dance floor with line dancing, and Novedhelion was asked by someone, "Are you with that group of wild women down there?"
"You bet," she answered proudly.
Late Saturday night, the group gathered in their common room, overlooking the lush gardens and waterfalls of the hotel's Cascade atrium. There, they held a "Dating Game," where mystery bachelors Boromir, Gimli and Aragorn asked revealing questions of the Shieldmaidens. The answers were worthy of any bachelorette party, including references to long, broad swords and those whose fancy was tickled by thick beards!
Sunday morning was full of hugs and tearful goodbyes, followed by promises, and chants, of "Moot 2!" next year.
"We're thinking of Viggo's house next year," said Aragornsgal (Queenie) with a wink and smile.
The road goes ever on, and those who have reached 'Rivendell' are now logging their miles to Lothlórien and beyond, throughout Middle-earth. New members are always welcome, and more information is available at www.eowynchallenge.net.
For women seeking fitness and fellowship, and with a passion for all things Rings, the Shieldmaidens issue an invitation to take the Éowyn Challenge!