Individual Stations
Flat / Incline / Decline / Bench
Home Gyms
Cardio Equipment
Free Weights
EZ-Grip VTX Olympic Barbell Set
For those of us that grew up reading the old muscle mags in the sixties and seventies, we will remember the old ads for the exercise equipment just as well as the old training articles.
Dan Lurie Barbell Company manufactured this bench back in the seventies. The "Half-Moon" or "Round Bench" was designed with a curved back and the purpose was to stretch the ligaments and cartilage around the rib cage for chest expansion. I got an opportunity to use one of these half-moon benches in Bob Rosa'a old gym on Knoxville Ave. in Peoria, Illinois back in 1975. Bob Rosa had equipped Central Illinois Weightlifting Club to be a hard core powerlifting gym with mostly Olympic barbells and dumbbells and this round bench was one of the few pieces of equipment he had in his gym besides bench presses and squat racks.
I actually found this half-moon bench to be really excellent for pullovers and dumbbell flyes. Lying back and arching my torso over the curved back felt very good on my lower back and the stretch I felt on my ribcage area while doing pullovers felt pretty extreme. The only company that manufactured this bench has been out of business for years and the closest that I have found to be a modern day counterpart is the Powerline Ab Bench. I have used the Ab Bench for Incline Dumbbell Flyes and they felt pretty good providing some extra stretch on the pectorals at the bottom of the movement. However the Ab Bench was intended to be used for ab crunches and not barbell pullovers but I think it might work well if the bench was positioned in front of a lat machine for straight arm pulldowns with a cable while lying back on this machine. This would involve adding an extra piece of cable - perhaps 2 feet - and re-arranging my gym so I have not as yet gotten around to trying that movement out. Old Dan Lurie had a pretty good idea back in the seventies with his round bench and this is the one piece of apparatus from his collection of home gym equipment that I wish would have survived.
---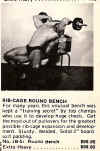 Rib-Cage Round Bench
For many years this unusual bench was kept a "training secret" by top champs who use it to develop huge chests. Get the most out of pullovers for the greatest possible rib-cage expansion and development. Sturdy. Welded. Solid 2" board, soft padding.
No. JB-5 Round Bench..........$69.95
Extra Heavy...............................$99.95
---
Editor's Note: The above ad is a re-production from an old muscle magazine for purely entertainment puposes. Please do not call us wanting to purchase the half moon bench as it has not been produced by any company in many years.
---
The Dan Lurie Barbell Co. was unique in that most of their weight benches and racks that they sold were offered in 2 different versions: a standard model and an "Extra Heavy" model. I often wondered what the difference was between the two if any but I suppose they thought it made for good hype to upgrade customers into spending more money with them. At any rate, they did carry one exceptional piece of equipment in their line back in the day that has not since been duplicated by any modern exercise equipment company to date. If anyone with the capability of manufacturing one of these benches reads this article then you should contact me as I think this bench would still be in demand today.-- Eric
---

Powerline Ab Crunch Bench
on Sale with FREE Shipping
Olympic Weights | Bodybuilder Dating Service | Bodybuilding Supplements | Bodybuilding Library | Weight Training Equipment | Gym Equipment | Vertical Leg Press | Preacher Curl | Bodybuilding Equipment
---
Free Weights
Pro-Grip Cable Attachments
Body Solid Pro-Grip Cable Attachments
Pro-Grip Triceps Pressdown Bar
Pro-Grip Revolving Straight Bar
Pro-Grip Stirrup Cable Handle Pro-Grip
Pro-Grip Seated Row Chinning Bar Combo
Standard Cable Attachments
Leather & Nylon Items
Body Solid Leather & Nylon Accessories
Miscellaneous Items